I released these designs for the 2012 Holidays. You can see examples in the image below. I decided to make this my first Original Fashion Vixens Template.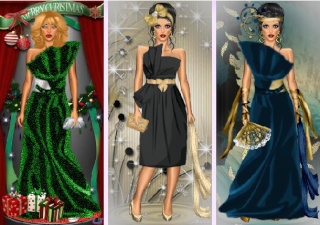 This one is called the Bow Dress, and the template is made to fit the new Diva Chix Carol doll, but of course will fit other DC models, even my new Caren doll (Carol's twin sister).
It comes in 5 pieces as showing in the animation below. There are numerous possibilities for new and different creation, and I have priced it to be affordable at just $5.95.
Purchase using credit card or Paypal below.
After your purchase, PP will take you to a download page.
If you have any problems with the download at all, please contact me and let me know.