5 must-haves to freshen your wardrobe
(ARA) - Most women agree that style is an important tool for succeeding at work, at home and in life. But for many women, getting dressed in the morning can prove a frustrating process. Even with the basics covered, it's often the final touches that can make or break an outfit.
Sure, everyone could use a personal stylist to help with those last minute fashion conundrums, but in this economy, who can afford one? Stay calm in your closet with these five must-haves to maximize - and personalize - your style every day.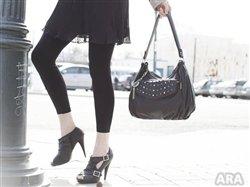 1. Customized handbag.
"Nothing says you like a versatile, customized handbag," says Heidi Thompson, co-creator of Grace Adele (
www.graceadele.com),
a new line of handbags and accessories that offers women a style system to create a customized look in five steps. "It's the one item that anchors your entire outfit, and for many women, it's the one accessory they pick up every single day," Thompson says. "Invest in a classic handbag that you can customize for every occasion with different scarves, wallets, clutches and jewelry for a personalized, finished look."
2. Statement sunglasses.
Sunglasses can be functional and stylish. Whether it's a retro cat eye, hipster wayfarers or oversized Hollywood glamour, choose shades that scream you. For decades, style icons, like Jackie O, have perfected their look with signature sunglasses. Oversized shades are perfect for the beach or lunch on the patio and never go out of style. When trying out a new shape, consider purchasing an inexpensive pair to take on a test run before opting for a pricier option.
3. Classic trench.
The timeless trench coat is always in style. While high-quality coats can graze the top of your budget, this style staple is the multitasker of your closet. Taking you through multiple seasons and offering style and functionality, it's worth the investment. From belted traditional khaki to updated yellows and pinks with a feminine ruffle detail, the classic trench is a timeless must have for your everyday style.
4. Metallic flats.
Made popular by 1960s star Audrey Hepburn, flats continue to grace storefronts and celebrity toes. The comfortable, wear-everywhere style comes in a round, square or pointed toe and can take you seamlessly from a casual day of shopping to a night out with friends. When it comes to color, metallics are the new neutral. Give basic black the backseat - instead, pair silver, gold or rose sheens with almost anything to add subtle shine to your outfit.
5. Sheer, patterned scarf.
No matter the season, scarves are in and can be worn with anything from a plain T-shirt to a well-tailored suit. Scarves are a great, commitment-free way for women afraid of color to liven up their look. Freshen up your white T-shirt and jeans with a bright orange print scarf, or pick any color that suits your fancy. There are many options that won't break the bank, so experiment with colors, patterns, textures and layers. For different ways to wear scarves, try the "How to Tie a Scarf" mobile app.
Accessorizing with handbags and scarves from Grace Adele, as well as sunglasses and shoes, is an effortless way to turn a tired outfit into a knockout ensemble. By experimenting with colors, materials and patterns, you can create your unique style that takes you from day to night.